O's look homeward following tough finale
One-run loss to Mariners on Wednesday concludes 4-6 road trip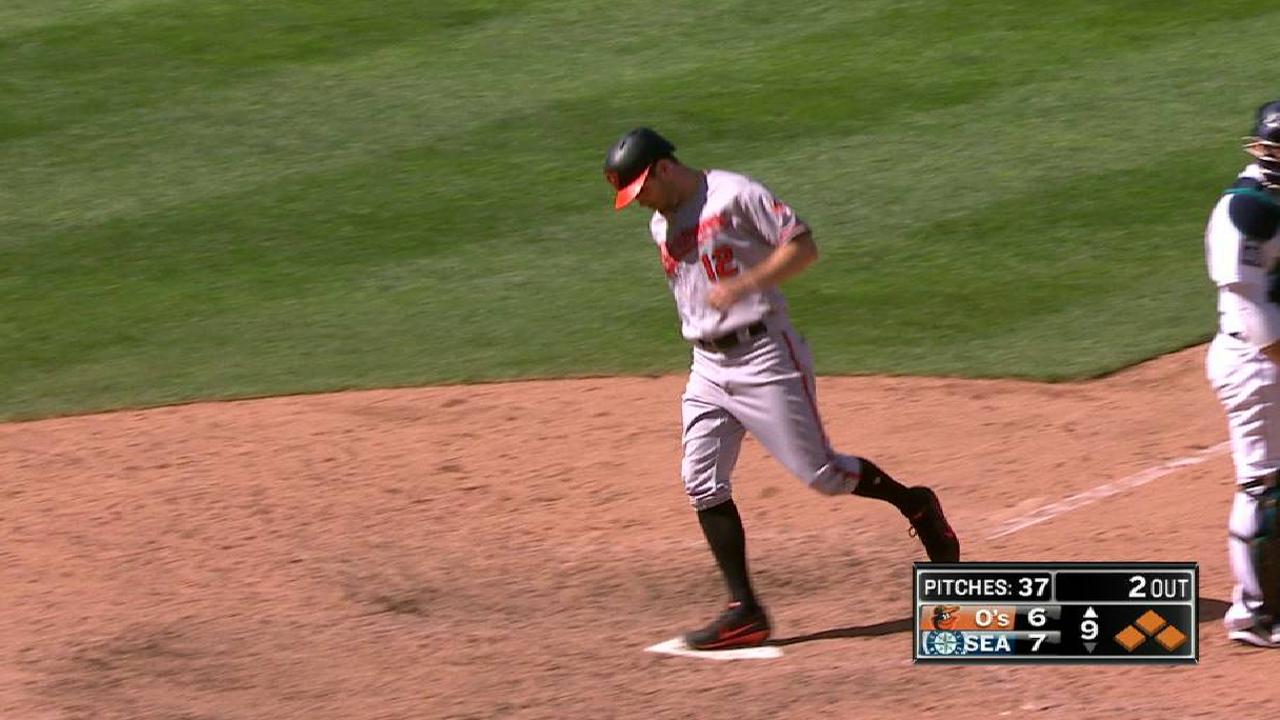 SEATTLE -- The Orioles knew it wasn't going to be easy. But even considering the circumstances, it's tough for Baltimore to be entirely satisfied with its West Coast road trip.
The O's completed a 10-games-in-10-days road swing on Wednesday with a 7-6 loss to the Mariners. A four-game series split in Oakland was bookended by three-game series losses in Los Angeles and Seattle.
"I assess it that it's over, it's behind us," Orioles manager Buck Showalter said. "There was a chance for it to be better. I'm not going to say it had a chance to be worse, because we had some chance; I'm not going to look at it like that. We had some opportunities, but we also won some games in some tough places. We stayed engaged in competition and we've given ourselves a chance these last few weeks. We'll see if we take advantage of it."
The "opportunities" Showalter is referring to include a 3-2 loss to the Angels last Tuesday, a 6-5 defeat to the A's on Friday in which Oakland scored two go-ahead runs in the eighth, and Wednesday's loss in which they couldn't capitalize in the ninth after Mariners closer Edwin Diaz walked three batters and hit two others while trying to protect a three-run lead.
"It's hard to evaluate the entire road trip right now, to be honest with you. You'd like to play .500 on the road," catcher Caleb Joseph said. "I thought we had a couple of games that slipped away, and 4-6 probably could have been 6-4. That looks totally different, and with how the standings are shaping up now, who knows. But it's over with and we've got to get ready, because we got the same teams coming here next week and we have to take care of business. We can't let those games slip away like we did this past week."
Wednesday's defeat left a sour taste to cap the West Coast trek.
"It's easy to be really disappointed," Joseph said. "You never know which run is going to cost you a victory, and just in today's instance, you look at those tack-on runs late that seems to put the game out of hand, we come back in the ninth inning and we actually have a shot."
A 4-6 road trip that featured 10 consecutive games and three West Coast cities is not all that bad, considering Baltimore is only three games back of the Angels for the second AL Wild Card spot.
And what's next for the Orioles? Three games at the Oriole Park at Camden Yards against the team they're hoping to catch.
"We have a chance to roll the dice the last six weeks," Showalter said, "and that's what we hope to do: compete with a chance to play in October."
Josh Horton is a reporter for MLB.com based in Seattle. He covered the Orioles on Wednesday. This story was not subject to the approval of Major League Baseball or its clubs.