Honorary Bat Girl winner shares survivor story
Amber Shaw, who threw out Friday's first pitch, was twice diagnosed with breast cancer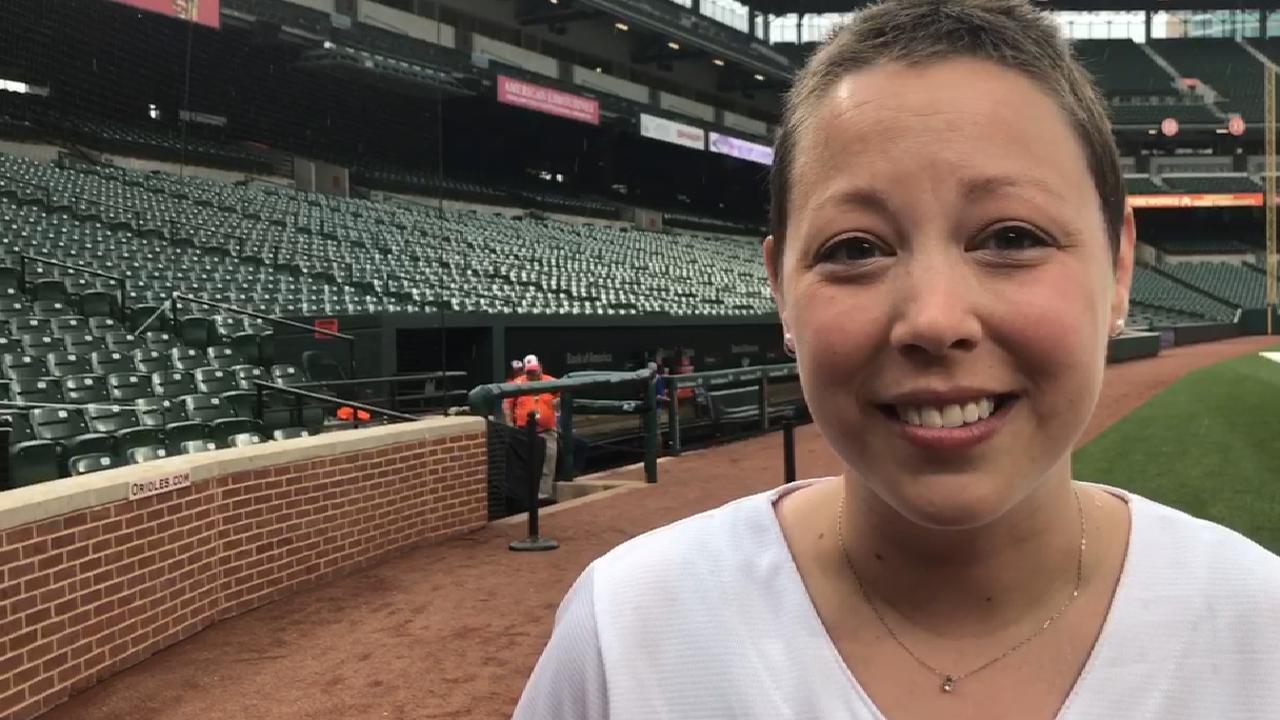 BALTIMORE -- Orioles fans across the country dream of throwing out the first pitch in front of a home crowd at Camden Yards, but for lifelong fan Amber Shaw, throwing out the first pitch of Friday night's O's-Blue Jays game was a moment to represent women battling breast cancer around the world.
Shaw was the winner of the 2017 Honorary Bat Girl Contest for her fight against breast cancer. The program was introduced in 2009 to raise additional awareness for the annual "Going to Bat Against Breast Cancer" initiative celebrated on Mother's Day. The winners are selected by fan votes along with a guest judging panel that includes some MLB players who have been personally affected by breast cancer, including Orioles pitcher Kevin Gausman, who lost his grandmother to the disease.
In March 2014, at age 28, Shaw was planning for her October wedding when she was diagnosed with breast cancer. Despite her double mastectomy, multiple rounds of intense chemotherapy and a blood transfusion, Shaw insisted that cancer would not ruin her wedding and married her husband, Dustin, on the scheduled date just months later.
Two years later, Shaw was diagnosed with metastatic breast cancer and endured two more surgeries, and more rounds of chemotherapy. Though some would struggle with the difficult conditions, Shaw remained positive, and ultimately pursued a career in mammography to help other breast cancer patients. She wants her story to send a message to everyone who is also battling breast cancer.
"It's going to be OK," Shaw said. "It feels like it's going to be the end, and you feel like you're not going to be able to get through it, but you will and you will come out stronger on the other side."
Although Shaw was most looking forward to watching batting practice, which was rained out before the game, she said the weather could not ruin the night that was ahead of her.
"[I am looking forward to] just having the experience here with my family, and getting to see everybody cheer me on," she said.
Mandy Bell is a reporter for MLB.com based in Baltimore. This story was not subject to the approval of Major League Baseball or its clubs.