Britton encouraged with rehab progress
No recurrence of oblique discomfort, star reliever says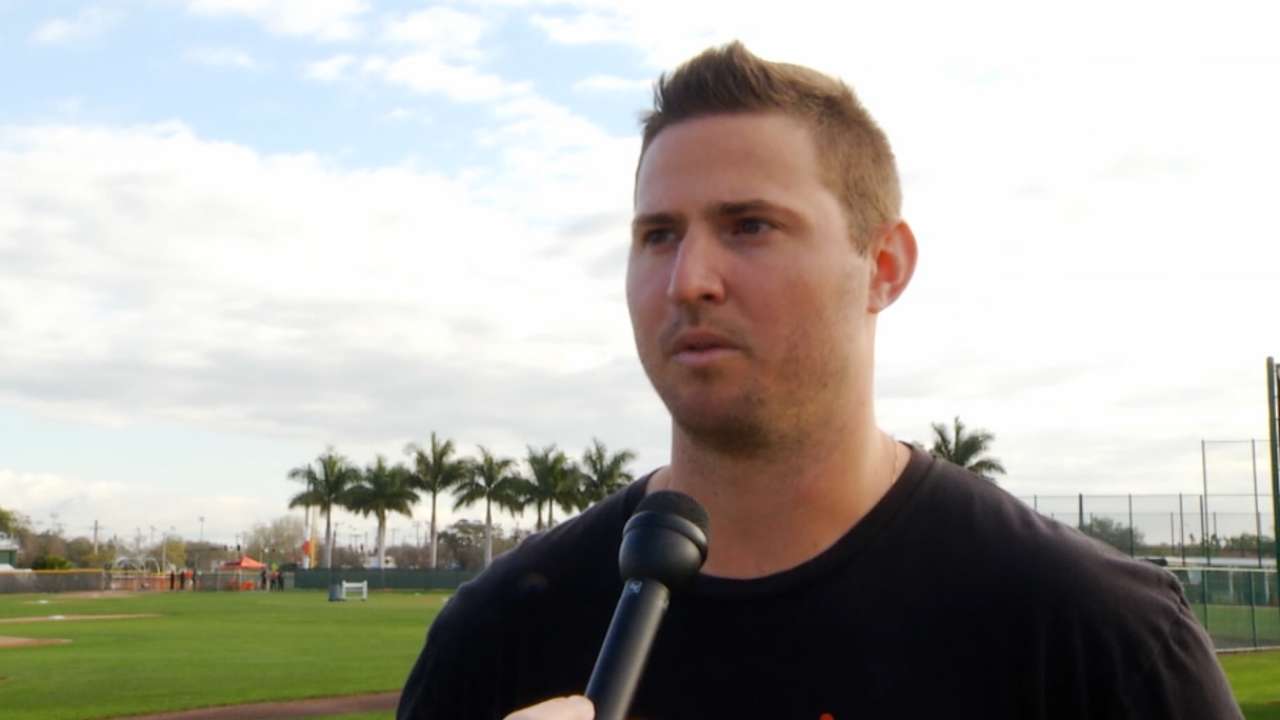 SARASOTA, Fla. -- Zach Britton says the left oblique discomfort that caused his 2017 Grapefruit League debut to be delayed is gone. He's pitched twice, and on Monday was scheduled to pitch a Minor League game.
Britton gave up two runs on four hits in his first outing on March 14, and three days later, threw a scoreless inning against the Pirates.
"Well, the second one was a lot better than the first one. That's a good sign," Britton said.
Because there were no signs of a recurrence of the oblique discomfort, Britton was to follow the plan of pitching coach Roger McDowell after the Minor League inning.
"I think four more outings or so with a back-to-back in there. I actually feel really good. No more symptoms of that, nothing's creeped back or anything. I feel really good now. I can just focus on getting ready for the season. I feel pretty good with where I'm at this year compared to where I was last year," Britton said.
Obviously, Britton hasn't had a normal spring. Then, he would have pitched two innings in one game. The soreness in his side got in his way.
"In the past, we've been able to do two innings. I don't think that's going to happen this spring based on where we started. Feel really good for the schedule Roger laid out for me, and we're keeping on that time frame, which is huge," Britton said.
Britton said his focus is getting ready for the season.
"I'm pretty close," he said. "As a reliever now, it only takes a few innings. It kind of clicks for you one day, and then you're ready for the season to start where as a starter you've got to build up those innings, and I don't need to do that anymore."
Britton hasn't worked in a game with catcher Welington Castillo, who left the Orioles on March 5 to play for the Dominican Republic in the World Baseball Classic, though Castillo did catch the left-hander in the bullpen in the early days of camp before Britton's oblique flared up.
"It will be big. I wanted those guys to do well, but it will be nice to get him back and actually throw to him a little bit more," Britton said.
Caleb Joseph was scheduled to catch Britton in the Minor League game.
"It will be nice. [Joseph] knows that when Castillo comes back he's probably going to get those innings. He wants to be ready to go whenever he has to catch me, so Caleb's going to do that [Monday]. I'm looking forward to getting more innings. I think it's just going to make us both a little bit more comfortable with each other," Britton said.
Rich Dubroff is a contributor to MLB.com and covered the Orioles on Monday. This story was not subject to the approval of Major League Baseball or its clubs.