Smith being cautious with strained hamstring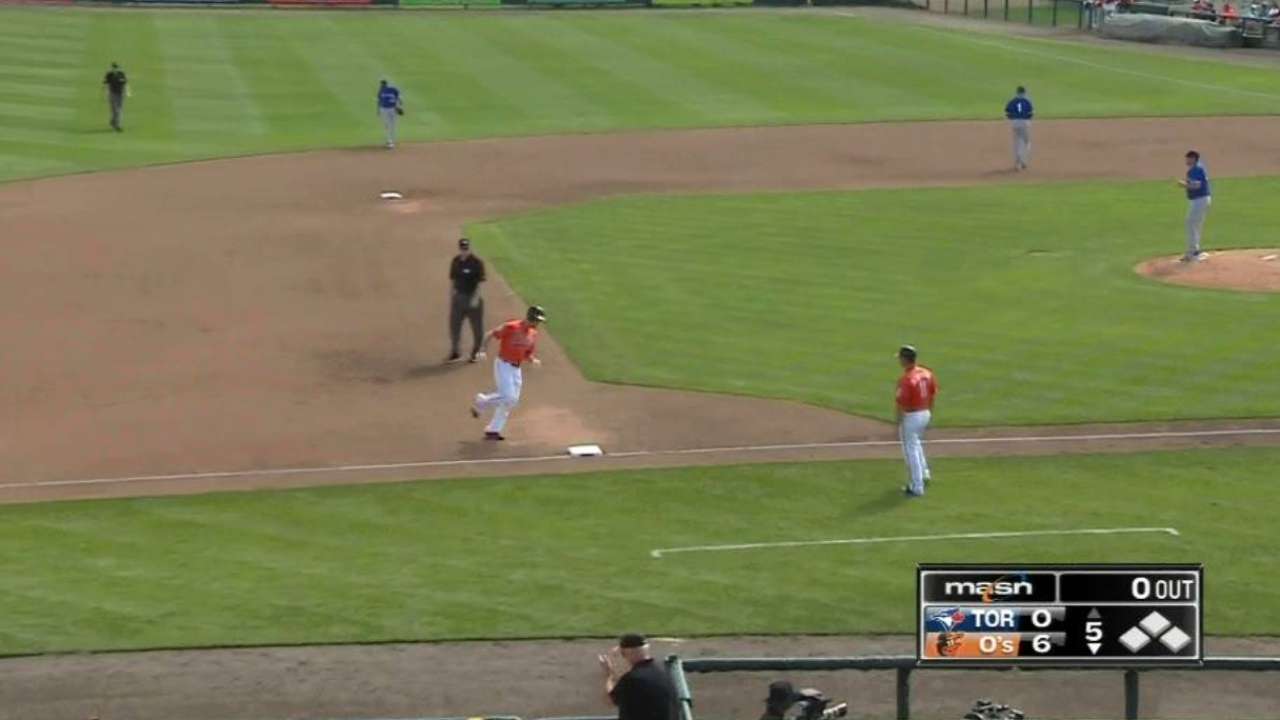 SARASOTA, Fla. -- Orioles outfielder Seth Smith hasn't played since March 8 due to a strained right hamstring.
Smith, who was traded to the Orioles on Jan. 6 from Seattle for pitcher Yovani Gallardo, had the hamstring issue last spring, too.
"It's getting better. It's something that I kind of felt it, and I just wanted to try and get on top of it before it got any worse," Smith said.
• Spring Training: Information | Tickets | Schedule | Gear
"Absolutely, just trying to get it ready, just want to get some time in Spring Training. Ultimately you want to do what you can to point toward the first of April, so what we've got to do with regard to the leg and at-bats, we do the best that we can to get it where it needs to be," Smith said.
Smith, who is expected to be the Orioles' regular right fielder, isn't nervous about missing time.
"Anything, especially when you're being cautious with it, you wait until you don't feel it, and then you build back up from there. What you think isn't taking long, may be like a week or so, but it's still not really that long when you're being cautious with something," Smith said.
"At-bats are great, and I'd like to get them, but being 100 percent going into the season is No. 1."
Infielder Ryan Flaherty had a cortisone shot in his right shoulder, and he thinks that the persistent soreness won't return.
"It's good. Just trying to get the inflammation to go away. So hopefully the shot I got a couple days ago will do that," Flaherty said. "It feels good, but it's just a matter of making sure the strength is fully there. Right now it feels 100 percent, but you've got to get the strength back up."
Flaherty also missed time this month with the shoulder ailment.
Rule 5 Draft choice Anthony Santander was scheduled for an MRI on his right elbow. Manager Buck Showalter said that the outfielder, who has been exclusively a designated hitter this spring, will rest for a few days.
Santander had offseason shoulder surgery prior to the Orioles drafting him from Cleveland, and that has prevented the team from trying him in the outfield.
"We want to make sure what we're dealing with there before we push forward with his progression in the outfield, we've got some concerns there; they want to take a look at it, and get the right tests done today," Showalter said. "Knowing the history of everything he's had, it's something we want to make sure we get our arms around before he goes into the outfield."
Santander and fellow Rule 5 pick outfielder Aneury Tavarez have had significant playing time this spring.
Rich Dubroff is a contributor for MLB.com. This story was not subject to the approval of Major League Baseball or its clubs.