Cruz, Showalter react to Lackey's comments
Red Sox righty hints at Biogenesis suspension after slugger's big game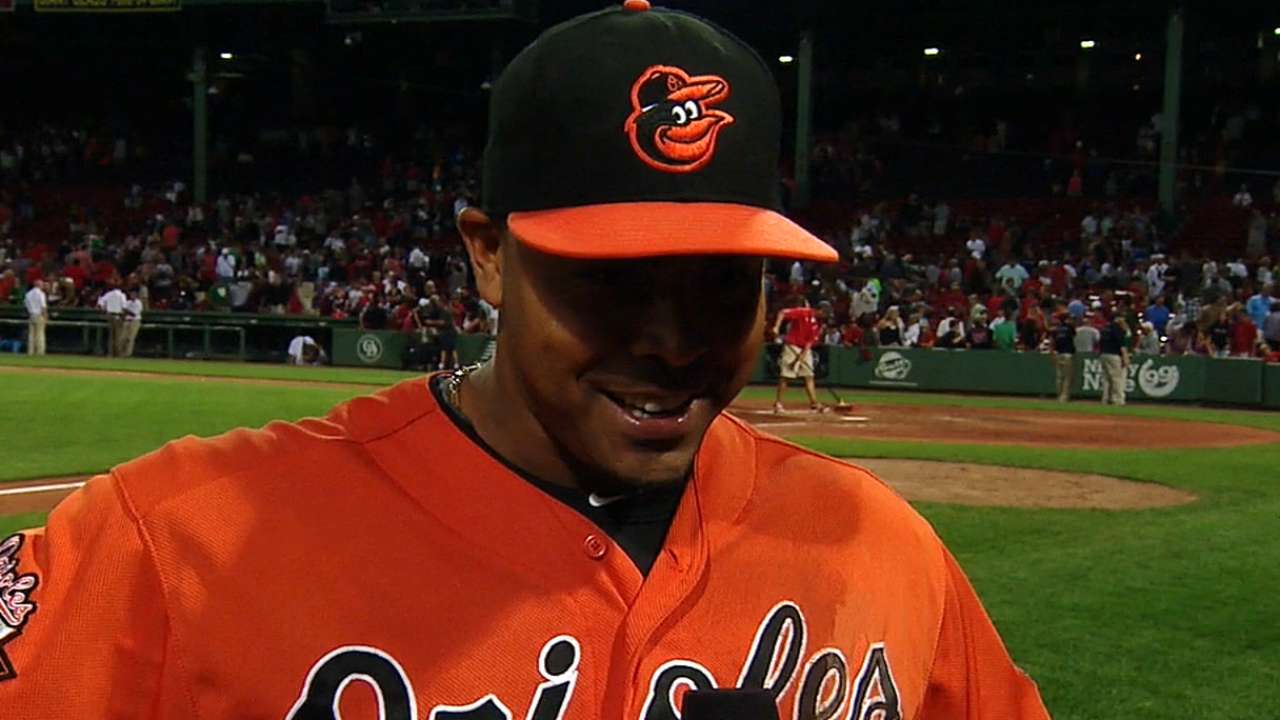 BOSTON -- The big news in Saturday night's 7-4 Orioles' nightcap win over the Red Sox was Nelson Cruz's five-hit night, which saw him fall just short of the cycle.
The Red Sox were not keen on heaping praise on Cruz, however, with Boston starter John Lackey saying: "I'm not even going to comment on him. I've got nothing to say about him. There are some things that I would like to say, but I'm not going to. You guys [in the media] forget pretty conveniently about stuff."
Lackey has made it clear before about his thoughts on players who have been suspended for PEDs, and Boston's manager John Farrell didn't have a whole lot to add about Cruz postgame, noting that he "looked strong."
Cruz said Sunday morning he was not aware of Lackey's comments and has had no history with the right-hander.
"What I care is about my teammates, what they think about me," Cruz said. "When you go to ballparks and beat other teams, they are not going to be happy regardless of what you do. What I care about is what my teammates think about me and what my fans think about me. Like I've said before, they are not going to be happy when I come in and do good. They want to see me strike out every time."
Cruz, who was suspended 50 games last season for his role in the Biogenesis scandal, was asked if this was something he would have to deal with his whole career.
"Like I said, everybody is free to talk," he said. "What I care [about] is what I'm doing here. You can't go and confront everyone who talks, you know? My point is to go and play hard and try to get hits for the team."
Orioles manager Buck Showalter suggested that Lackey check his "own backyard" first before commenting on Cruz, which refers to Boston slugger David Ortiz's past. Ortiz was listed in a 2003 report that had more than 100 MLB players who had tested positive for a banned substance.
"You consider sources of people and some of their emotions after the game, whether it be a player's comment or a manager's comment or some fan's comment," Showalter said. "You understand that nobody makes those comments after they pitched a complete-game shutout or Nelson is 0-for-5. It's human nature. We need to all make sure we check our own backyard before we start looking at someone else's."
Brittany Ghiroli is a reporter for MLB.com. Read her blog, Britt's Bird Watch, and follow her on Twitter @britt_ghiroli. This story was not subject to the approval of Major League Baseball or its clubs.